Raw Food Theory – slow juicer / multi-function food processor
Health-related products
2013/08/16
I will introduce it all over Japan responsibly.
It will contribute to the "food education" promoted by Japanese government !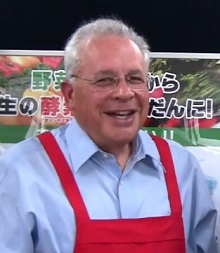 Earth Messengers Association president 
Ronald Morse


「"food and drink raw theory the "raw" is come from my name RON」




The purpose of eating and drinking raw theory
The term "food education" has been attracting attention in Japan currently. 
But, there aren't many people who are working on a decent to "food education". 
"Food education" will be a great keywords to send the family every day in good health always.
 Food raw theory is the multi-functional food processor has a slow juicer made ​​to think something is "food education".
 "I'm worried about food additives and a variety of chemical seasoning from being included in the various things had been up long time.
If you do not know what is safe, what is dangerous, there is no way that you are having a healthy diet.
Without having such additives and minced fishes,noodles, frozen juice of fruits and vegetables, of course, such as sherbet and ice, such as pasta and noodles, and sausage and minced.
To review the food if food raw theory can work. In order to use the ingredients that you can trust that saw by your own eyes, follow a sensible diet safer, we recommend that you have you favorite food and beverage of raw theory.
Food education
The food education, "people, can measure the realization of a healthy diet through life, inheritance of food culture, to secure such as health, choose the food and knowledge about various eating habits and to think about the food of their own. It is the concept that "refers to the efforts of learning, such as to acquire fun judgment, proposed by Ishizuka port that has been working as a surgeon, doctors and pharmacists in Japan at that time in 1896 (1896). 
In addition to "lipid, protein, carbohydrate" in the three major nutrients, port had been proposed mineral and is more important than anything. 
Correctly, this proposed are as important vitamins and minerals in addition to nutrients of three of the above five major nutrients in the diet of modern fact.
Why the word pay more attentation on education in the recent years, because it is a major factor of the law of food education.
The Minister of 12 ministries and the Prime Minister, Chairman of National Public Safety Commission participated.
Responsible for the new era, the characteristics of raw food theory
Using a screw that comes with raw food theory Squeeze the juice the manner in stone crushing ingredients. 
Which including the enzyme heat-sensitive, such as vitamins and dietary fiber, and consume more nutritious.
You can also by having you replace the screw depending on the ingredients, squeeze out efficiently.
Therefore, it is possible to squeeze an amount of 1 to 2 times which was compared with other juicer, the amount of juice squeezable.
We are also good in performance.In addition to the advantage of the juicer, you can use it as a high-performance food processor.
You can start the Udon noodles and pasta, and make handy food like people take time in the food processor in normal ice cream, tofu, and mince.
For reached minced particular, by using the screw can only make Mince speedier.
Era of food education, for children and families, we'll create a hand cuisine where you can rest assured ingredients and can be peace of mind.
Different foods using different replacement

It can be replaced of each part, depends on the food It can make noodles, juice, and also mince.
Raw pasta, macaroni, you can make whatever you want

Such as spaghetti and noodles, of course it req effort, but since you know the raw food theory it is easily to make all kinds of noodles, such as macaroni.
Related posts:
Related information